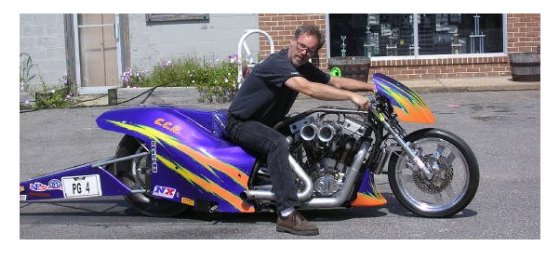 Here's how it all began........
My name is Dan Vance. My wife, Sandy, and I have been in the Harley Davidson motorcycle business since 1975. In 1980 I attended the American Motorcycle Institute in Daytona Beach, FL where I received my HD certification and graduated at the top of my class. We then opened our first official motorcycle business in which we did mostly antique HD restorations. This lasted until 1987 when we opened a full service and parts shop in Willimantic, Ct. In this shop we did general repairs, motor rebuilds and a wide variety of services on all models of Harley Davidson motorcycles.

In 1991 I was reintroduced to drag racing by a mechanic who worked for me. (I had raced a Camaro when I was younger.) Since that time I have been involved in racing an HD dragbike as much as possible. Some of my career highlights include winning the AHDRA National Championship in 2001. In this same year we reset all the records in that class. We also won multiple Brute Horsepower @ Daytona AMI Shootouts, and the list goes on.

With a full service department and a race team, it was necessary to have our own machining facilities to continue to develop our race program and to provide better service to our customers. We started out with a boring bar for cylinder boring and moved on to a valve re-facer and carbide cutting tools for the seats. Next we added a lathe, bridgeport, surface grinder and welding equipment to our facility.

Later, we purchased a Superflow flow bench to develop better air flow to improve the performance of the cylinder heads. In doing so, we realized that we needed to better tune the flow of air through the carburetor and EFI intake systems.

In order to test our work, we purchased a Dynojet Dyno in 1991 and began testing our performance add-ons. In doing so, I learned how to get the best tune-up for the many combinations that our customers had chosen for their rides and I was able to make good workable suggestions for the carburetor, intake,ignition and exhaust systems.

In 2005 we sold the retail store and service department.

In 2006 we built a new facility in Hampton Ct. and moved our machine shop and race team there. We now only do machine work on motors or on smaller jobs involving motor components. Our primary focus is on Evolution and Twin Cam cylinder head development for street riders. We also have proven power enhancing cylinder heads and parts for the Sportster and Shovelhead riders.
It is not a large building but has all the features that are necessary to complete any job on a Harley motor. With plenty of years in the business I have everything located and set up for the way I do my work. When doing a set of cylinder heads there is a definite route that the heads will follow as they are ported, polished and made ready for you to enjoy your bike more.

Can't get much better than that !!