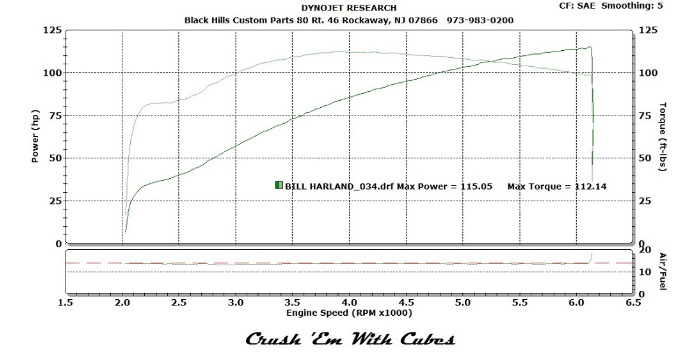 DVR Raised port heads,

S&S beehive springs,

98 big bore conversion,

S&S adjustible push rods conversion,

Tman cams,

S&S cam install kit,

MLS top end gasket kit.
It seems like most riders are looking for more power from their stock Harley Davidsons. Well, I can help you with that. These are my best selling power kits.
Here is a dyno sheet of this kit.
Got questions? dvanceracer@charter.net
95" or 98" Big Bore Kits $2295 plus shipping
I also recommend some throttle body work, I can either make the stock Harley throttle body larger or provide you with new HPI unit.
This kit produces a nice running bike with great street manners and good gas mileage. It is a pleasure to drive on country roads with the significant other or out road racing with the guys.

Either way, If you want to go faster, just twist the throttle and the bike will instantly move forward and continue to accelerate until you get out of the throttle.
Sure makes the bikes more fun to ride!
These are not the only kits I do. I have many ideas on how to make your bike perform more like what you want it to be. Just ask ??
103 or 107" big bore kits $2295.00 plus shipping
We also now offer the 110 big bore kits. ask for details

This kit is basically the same 95/98 kits but using bigger parts for the bigger motors.
The kits include raised port heads, 103 or 107" big bore pistons, a set of Tman cams, S&S adjustable push rod conversion kit, Cam install kit, MLS top end gasket kit, and head gaskets, 030 or 040"

The out put can be adjusted to the power you want. More compression, throttle body and exhaust play a key role in making the power where and when you want it. Power in these kits range from 120T 115 hp all the way up to 130T and 125 hp. It is the heads that make the power and it is the cam that dictates where in the rpm band the power will be.
If you have any questions please feel free to ask.