A lot of Harley riders ask me why they should do work to their Harley Davidson cylinder heads. The simple answer is because it is the heads that make the power and the cams dictate where in the RPM range the power will be. Cylinder head porting is not only for high end performance. A good set of heads and correct cam choice can show big rewards for all levels of performance. This is why I, as the porter, ask questions as to where and how you ride and where you would like more power. I have several levels of head work that I do and I will try to explain the differences.

Do you want even more power?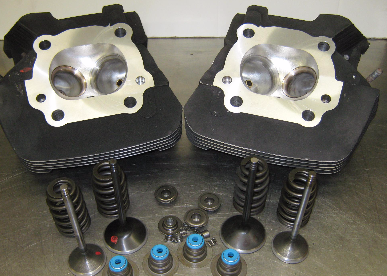 This is a basic price list for head porting. There are plenty of options so do not be afraid to..........
ASK QUESTIONS
Stage 1:
This is an entry level port work. I blend the seat to the bowl and the bowl to the port. I also go in and remove any material left from the casting job. I will use your valves, guides and springs. I also do a pro valve job of 7 angles, on the valve and 2 on the seat, install new seals and you are good to go. This port work is something that you can feel as you ride. $ 399.00

Stage 2:
Same port work as stage 1 with the inclusion of 1.900 intake valves, more extensive intake port work. The bigger valve can really make a big differance on more power in all rpm ranges. $ 499.00

Stage 3:
Same as stage 2 with the inclusion of new exhaust valves and new beehive
spring kit, more intensive porting on the exhaust side. $ 699.00
Stage 4:
Raised port head work: New valves, weld and reshape intake, and exhaust ports to maximize efficiency which helps to make more power and a smoother ride. Same high tech valve work with 5 angle on the intake. The power that this head work provides is truly incredible. The throttle will work like never before. The bike will actually move forward instantly when the throttle is activated, and it will continue to accelerate until you get out of the throttle . Really makes the bikes fun to ride. With different cams the power can be adjusted to the rpm range that you drive in. This is a great head for baggers to dynas. $ 895.00
Stage 5:
Raised port big valve conversion:
This is the top of the line head work, new bigger intake valves (1.980, 1.990, and 2.0"), new intake
seats, new exhaust valves, performance valve job, new beehive valve springs set up for the cam
of your choice. CC heads and mill to desired compression. This head work is the best I can do. The smooth efficient power is unmatched. You will be more than impressed by how this bike runs, and if you want to race with your buddies, well, we'll just have to see how bad you whip on them. $ 1195.00

I also have complete porting packages for thenew M8 cylinder heads.
More to come on that.
I also do port work on other Harley heads like the Evolution Big Twins & Sportsters,
and even Shovelheads. Call for pricing.
ANY QUESTIONS JUST ASK ??
Add-on options:

CC heads and mill to desired compression $ 75.00

Manual compression releases (includes labor & releases) $ 125.00

Automatic compression releases (includes releases) $ 275.00
Polish fins, removes dirt on edges of fins and brings them
back to the original luster. $ 20.00 each head