Shovel Heads.

The venerable shovel heads are now considered to be antiques. they were a good motorcycle that out lasted the sale of HD to AMF company in the early 70's and went on to be repurchased by the employees and brought back to the leaders in the heavy weight motorcycle class.
I like shovels as they were my first harleys that I owned. I have been working on them since 1975 and continue to work on them to this day. i can and will do most any job description on these motors.
Here is a brief list of machining options that are available here.
Raised port shovel porting. $895.00
This is the same port work i do on the evolution and the twin cams. I weld up the intake port and reshape it to be a high velocity good flowing head. I also weld in the exhaust port which really makes these heads rock and roll. These heads receive new AV&V valve guides and all new AV&V valves.
Machining options for shovels:
Cylinder boring, next size 80.00 ea. cyl.
Standard valve job,
measure guides and valves, cut 4 seat, clean and reassemble 250.00
Weld and repair exhaust bolt hole 90.00 ea.
weld and repair stripped spark plug 125.00 ea.
Install all (4) new valve guides (included) 100.00
replace valve seat (seat included) 125.00
replace all valve guides and valve job 350.00
replace valves with above work 125.00
If you do not see what you want, just ask ????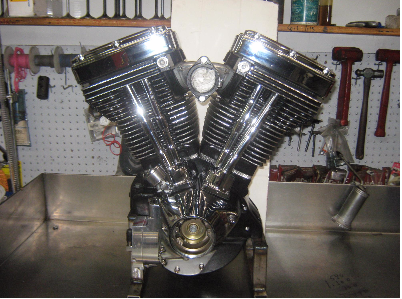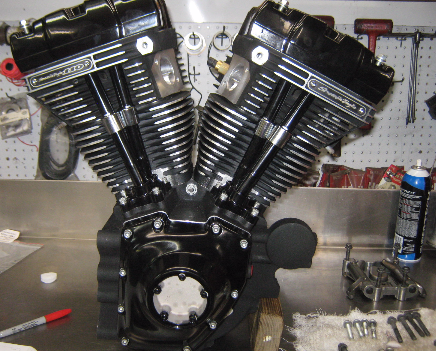 Are you looking for more power out of your Harley Davidson motorcycle? You've tried the 95", 98" and then the 103"or 107". Now you are ready for some serious power ? The 117" or the 124" is the way to go. If you are riding a Dyna, Softail, or a full dresser this motor is for you. The motor itself is very versatile and can fit many riders needs. The biggest difference in the motors will be the cams. The cylinder heads make the power and the cams dictate where in the rpm range the power will be.
If you are looking for smooth effortless power at the touch of the throttle you are going to really enjoy this motor upgrade. This motor upgrade is for the 2007 and up Harley models that already have the 4.375 flywheels installed from the factory.
This kit works exceptionally well on the 110 motors which already have a good set of heads. it will work with the stock heads as they are or you can have me port them for even more power !!
With the stock 96" or 103" motors you have a piston that measures 3.875. This new kit has a piston that measures 4.125" which is considerably bigger than the ones already in there. The cases will need to be bored for the bigger cylinders and pistons. Now that the cases are open I would recommend the Timken conversion, true and weld the flywheels, and then bore the cases for the new cylinders. This will make for a bullet proof lower end which will easily handle the new power of the 117" or 124" motor.
Making your motor into a 117" $2595 parts included.
You send me your cases with the flywheels inside and i will do the rest.
This kit will include (2) 4.125" cylinders bored & honed to a new set of pistons, rings, pins and clips, head and base gaskets. The cases will be disassembled and cleaned. The Timken insert will be machined and installed in to the cases, a new timken bearing installed. Next, flywheels will be trued and welded, right side pinion bearing replaced, machine cylinder spigot holes bored out for new 117" or 124" cylinder kit. The lower end will be completely re-assembled and will be ready to bolt into your frame. I do not put the cylinders on as it puts the weight of the box into a "freight only" shipment which is very expensive.
If you want to make it a 124" motor then all you need is a set of flywheels that I will purchase for you for app.
$1550
No extra charge to install with above kit.
There are also kits for the 4" stroke motors (1999 to 2005 models), that include the 114" and the 124"
You can use your stock heads and cams with this conversion but it will not be as powerful as it would be with a better bigger cam and some head work. Things to think about with the heads, cams and compression is where do you want your power to be. The heads make the power and the cams dictate where in the rpm band your power will be. This is where a lot of folks get confused as to what they want or what they think they want. If you are riding a dresser or big bike then you probably do not want horsepower, you want torque !! Horsepower starts at 5250 rpm and goes up from there, anything below 5250 rpm is called torque. Torque moves the world where as HP just keeps it moving at speed.
If you spend most of your timing riding back roads, and touring on the highway you want to make more power in the lower rpms as opposed to high rpms. If you have a dyna or other lighter bikes and really like to be excessive on the throttle, race light to light with your buddies and in general keep the motor in the higher rpm range then you would want horsepower. That would be accomplished by a bigger lift, longer duration camshaft.
There are many decisions to be made in order to get the motor of your dreams. It is not just bolt the cheapest parts together and you will be there. it takes careful planning and the correct choice of parts to get what you want. Please ask questions before you start.

MILD to WILD !! 103" - 124" or MORE!!