Want to know more?
Click on the images below.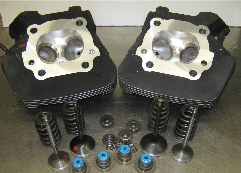 Dan Vance Racing has been providing performance options for Harley Davidson motorcycles for over 30 years. His extensive experience in drag racing, street mods, dyno tuning, cylinder head porting & building big inch motors has provided him with the know-how to customize your Harley engine mods in all RPM ranges according to the way you like to ride.

Our Email Address has changed to...
dsvracer@charter.net